Your bags are packed, your ticket is booked, your hotel reservation is confirmed and your boarding pass is printed. You're on your way to somewhere exciting, and most of the major decisions have been made. But there's one more thing left to determine, and it can affect your entire trip.
For some people, it's not a conscious choice. It just happens. You step off a plane (or out of a car), and you're overwhelmed. The air smells different, the buildings look different and even the sunlight gives colors a sharpness you never noticed back home.
You start to walk differently, with a swing in your step and your head bouncing. You feel confident, impatient to explore this new place (or, on the flip side, you're paralyzed by uncertainty and the unfamiliar, and it takes every ounce of willpower you have not to run and hide in your hotel room).
You walk down the street and know that you will not run into that ex-boyfriend, or that annoying coworker or that woman from across the hall who always hogs the washing machines in the laundry room. You're in a new place, surrounded by strangers, and you become someone else, too. Some seize the opportunity immediately, while others slowly morph into another version of themselves, almost unaware of the effect this new place is having on them.
One of the best things about traveling is embracing and exploring different parts of your personality. Maybe a trip to Vegas has you wearing platform heels and liquid eyeliner. Or a camping trip brings to light your hitherto undiscovered love of flannel shirts and trail mix. Trips can reveal parts of ourselves (and likes/dislikes) we never knew existed. In addition to revealing traits like an utter inability to read a map, you might also find that you love experimenting with exotic foods (something you never would've tried if it was an ordinary Saturday night at home).
I know I've been surprised a few times with the things I've found out about myself while traveling. For instance, I discovered (actually, it was more like confirming) my fear of heights on the side of an Alp in Germany. At a hostel in Brighton (on a chilly spring weekend), I realized that it's better to spend some extra dough for a blanket rather than cranking up the heat in the room (yes, you can take thriftiness too far). I've also found that, while I could technically survive on a box of protein bars and hostel-provided continental breakfasts, I actually have a much better time when I'm eating a semi-normal diet.
It's fun to be someone else for a while, to dance all night on a pub crawl in Rome, to fearlessly approach other tourists and ask them to take my picture, to strike up a conversation on a train to Paris. But it doesn't only have to be about trying new activities; it can also be as simple as trying on new clothes.
I'm usually a jeans-and-sweater (or tee-shirt, depending on the season) type of girl, but it's fun to experiment with oversized movie star sunglasses, colorful scarves or flirty sundresses.
It's fun to alternate between playing the part of sophisticated world traveler and budget-conscious backpacker. What you choose to wear is just another way to signal that this is something special; travel is an occasion that calls for leaving behind the ordinary, in every facet of your life.
So whether you climb a mountain, tie a neon pink sweater over your shoulders or party with the locals (or all three, preferably in the same day), sometimes losing yourself is the best way to find a new perspective.
En mi caso, descubrí que:
 - Puedo caminar 12 horas seguidas sin tener dolor de pies (eso no lo hago ni loca acá en Rosario).
 - Puedo comer frituras un día entero sin tener un ataque al hígado.
 - Puedo estar más de 5 horas sin ir al baño.
 - Puedo dormir sin bañarme después de un recital de rock porque el baño de mi hostel es un asco.
¿Qué hacen ustedes para reinventarse cada vez que viajan? ¿Qué cosas descubrieron mientras estaban en un país desconocido?
by Jess Harvell.
That's what makes Winehouse's loss so acute from a musical standpoint, and it's what the legions of trend-grabbers and American Idol hopefuls essaying her songs never quite get. She could do a straight, tearful ballad like "Love is a Losing Game", something you could imagine any number of singers adequately covering. But in Winehouse's best songs, there's always something odd, pained, and ineluctably personal in lyric and voice alike. Record execs will likely be grateful that Winehouse's brief success opened up a lucrative market for "real" music. Listeners can lament the fact that we lost someone who understood that "realness" is a sham without the candor and distinctiveness to back up the chops.
This is why I love Matador so much. Articles written by foreigners that live in Argentina. Another point of view of your life. Sometimes we are so pessimistic, negative about our country that we forget how beautiful it is. And I'm not only talking about the architecture, but the people too.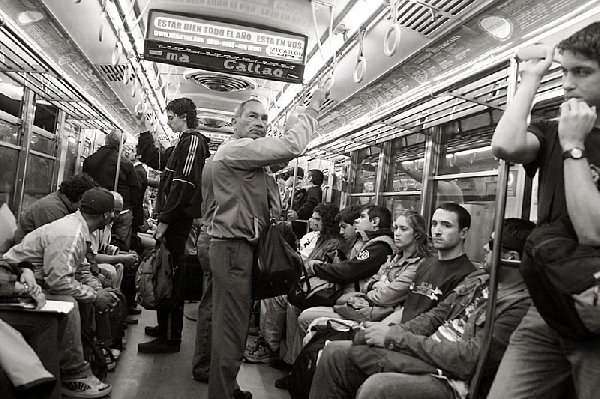 Photo by libertinus
You have to be careful not to step in dogshit in Buenos Aires. For some, that's what they'll remember most about it. In what terms do you 'see' a place?

Riding home from Palermo on the creaking subte during rush hour madness. People elbowing me in the back. The heat of so many bodies. Everyone keeping his or her head down. Looks ranging from disgust to all-out despair on the faces. Nobody saying a word.
"Viste lo que es?" my friend Gustavo asks. You see what this is?
I nod and and think about it for a second and then say, "People get used to anything after a while." The verb acostumbrar: to become accustomed to.
The train rocks through the curves and we all lean into one another, then recoil, pretending we never felt or smelt each others' bodies.
"This is us," Gusavo says. We push our way out through a dozen people–"permiso. . . con permiso…perdón," nearly falling into the station where a guy wearing a scarf is playing a somber and perfect melody on the cello. Gustavo flips a coin into his open instrument case. We climb the filthy stairs to the cold and miraculous air outside.
"Those poor people," Gustavo says. "They have to do this every day."
"That many people, traveling every day… you'd think there'd be enough revenue to improve the transit system." As soon as this is of my mouth–even though it was in flawless Spanish–I realize how much of a Gringo-sounding statement I've just made.
"Cuidado!" I step over a huge pile of dogshit. Then I say: "So these people get on a train de mierda, go to jobs de mierda, and then on their way home, actually step in mierda?""Yeah, but it all ends up in the impresarios' pockets," Gustavo says. "It's a país de mierda." A shit country.
"Exactemente," Gustavo says, laughing. "Es todo mierda."
Gustavo and I have had this same conversation–how Buenos Aires is una mierda–off and on for the last five years. He was born here and lives here but every few months just can't take it anymore and ends up cooking or managing some restaurant in Mar del Plata or Miami or Costa Rica.
Anyone who is used to clean streets and orderly public transportation will see immediately how Buenos Aires is a city de mierda. But at the same time there's something lovable and unbreakable about this place.
At the bottom of it all are the street dogs–some with unspeakable wounds and scars and deformities–trotting the concrete, tougher than any army. There's the guy playing cello. Adding just the right soundtrack to the madness of the subway.
And then there are the capos, those doing whatever it is under whatever circumstances–whether it's playing soccer or delivering babies–as well as it can be done.
Photo by Loco085
Capos are rare, but you meet them here from time to time, like today in the Cafe Ocho Rincones, on the corner of Forest and Alvarez Thomas. Lau and I walked in and sat down, and there he was, immediately nodding at us that he'd noted our entry and would be right over.
A waiter from the old-school with pomade-slicked hair and an immaculate bow tie. And even though he'd probably arrived here this morning off a train or bus de mierda, you'd never know it from his eyes, which said 'as long as you're here, whatever it is you need, I'm going to take care of you.' He approached our table.
"Madame," he said, bowing slightly to Lau, then "Caballero," turning to me, "Welcome."
MatadorU is an online education and resource center for travel writers. I really enjoyed the article. Many things are taken for granted when we write our travel diary so here's a sort of checklist for your next trip (or mine :).
Your trip is over and now you're back at home and ready to finally do all the writing that you could not get to while traveling. Better hope you took good notes!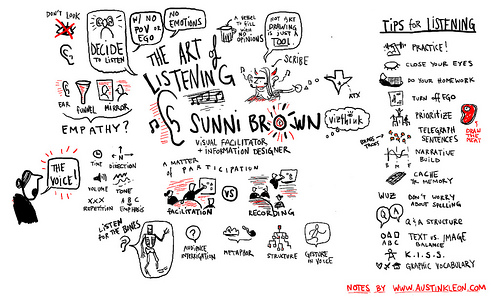 Photo Austin Kleon
WITHOUT NOTES taken in the moment it can be hard to find the inspired words to describe your journey.
Notes jotted in the moment can be drawn upon later to revive a visceral sense of place. Your notes can remind you of emotional and circumstantial elements that were relevant to your overall experience. If taken well, they'll be the bridge back to the moments you wish to capture in your writing.
TAKE NOTES WITH YOUR 5 SENSES
Visual descriptors are good. But remember to take notes with all of your senses. What does the air smell like? What is that fainter smell carried on the wind? What does the scene sound like? When eating, how does it taste? What is the texture? Since good storytelling requires a balance of showing and telling, taking notes with your 5 senses will enrich your writing once you settle in from of your computer many weeks or months after the fact.
Any one of these senses can trigger a greater recollection when you finally sit down to write. Remembering the smell of potent, teeth-staining coffee can bring the whole sidewalk cafe scene rushing back.
TAKE NOTES WITH YOUR EMOTIONS
Remembering how I felt, what frame of mind the circumstance put me it, is valuable information to have gathered when I sit down to write. Whether your travel experience brings elation, nostalgia, terror, or triumph, it is important to take notes in the moment to catch that emotional subtext. Those feelings can be the heart of your travel writing.
TAKE NOTES ON SPECIFICS
The name of your tour guide. The guesthouse you stumble into at 3am. The name of the street where you were pickpocketed. You don't have to be writing a city guide to relish in the specifics of your travel experience. Taking notes on the little details gives depth and authenticity to your writing.
TAKE NOTES THAT ARE NOT NOTES
Photos, audio recordings, video…use whatever technology you have available to record your journey and supplement your note taking.